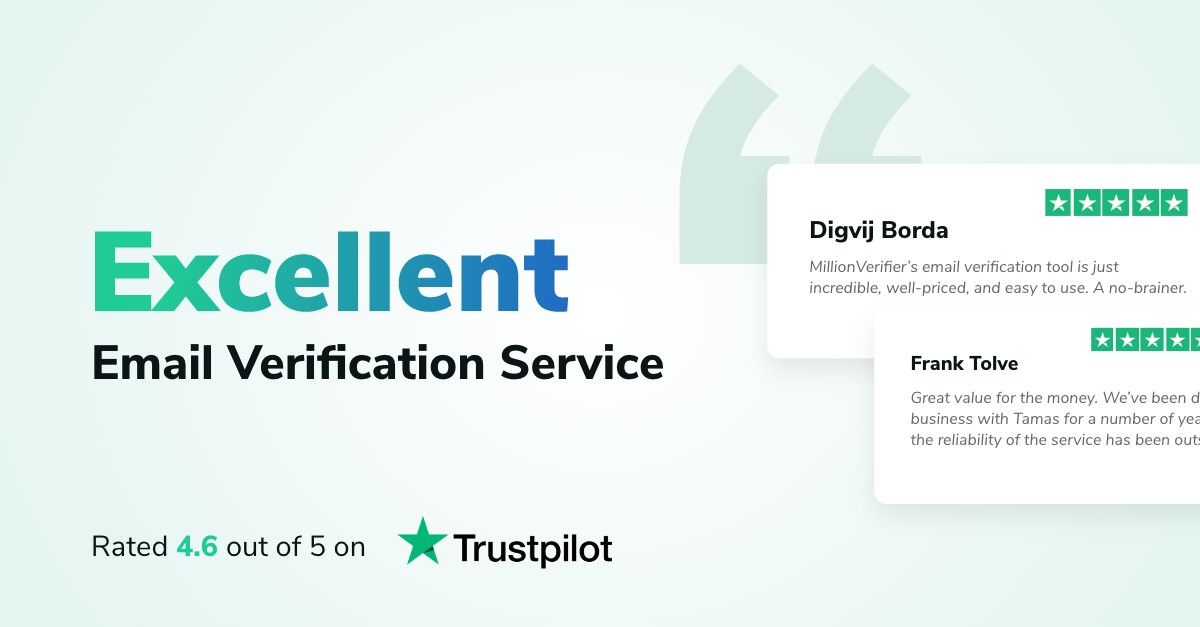 Our customers love what we do. We work hard to deliver the best results and user experience for our customers. MillionVerifier is rated excellent on Trustpilot.
Rated

4.6

out of 5 on
We compared other verification companies and Millionverifier had the best pricing. Once we signed up we were delighted with the accuracy and speed of the verification and have recommended them to seve...
I love this service, accurate, fast, affordable.
Very happy with the service. Would use again
Best verifier in term of price and quality
Amazing accuracy! It helped me tremendously to clean my list
most affordable service. like it.
I like your services
We have tried out a number of verification services over the past year. It's been amazing how much faster and more accurate this is so far. I've compared some of our results with several of our own em...
It works. it is simple and it keeps you and your email reputation out of trouble. tremendous value
Do not run an email campaign without Millionverifier! Accurate and fast as promised. The price was so good, I just purchased a large package and run any list through for verification prior to a campai...
Great app. Love the accuracy in the reporting and the customer service is top of the line. So far it's been a five star experience. Hopefully they can speed up the email verification process in the...
The service is excellent, it does the job, accurately identify bad email addresses. The cost is also really cheap. A tip: if you need to regularly validate emails, I suggest to buy the larger packages...
Excellent company! Simple and straightforward interface. The email validation is pretty fast and accurate with raisonable prices! Overall we are extremely satisfied with the sales transaction and the...
I've been using millionverifier for couple of months now and all the list I verify on it is 100% valid
Its been a good verifier
Test period worked excellently for me. I recently subscribed to 500K. I am convinced I am going to have a excellent service.
In my experience, this is the most accurate email database verification service. Checks files quickly. Prices are really cheap. and despite this, there are often additional promotions. We had experien...
Coming in to my new position, I had a feeling their 55k emails weren't all active. Sure enough… ??? thanks for for saving us from getting blacklisted and saving us money on dead leads.
One of the best email verifying services in the market, prices are absolutely cheap and they provide the best rates compared to any other platform. They also have other services available for vario...
I hadn't emailed my list in a while. I attempted at one point but I was receiving too many bounces so I decided to stop the mailing. I found MillionVerifier and, after cleaning my list, I was able to ...