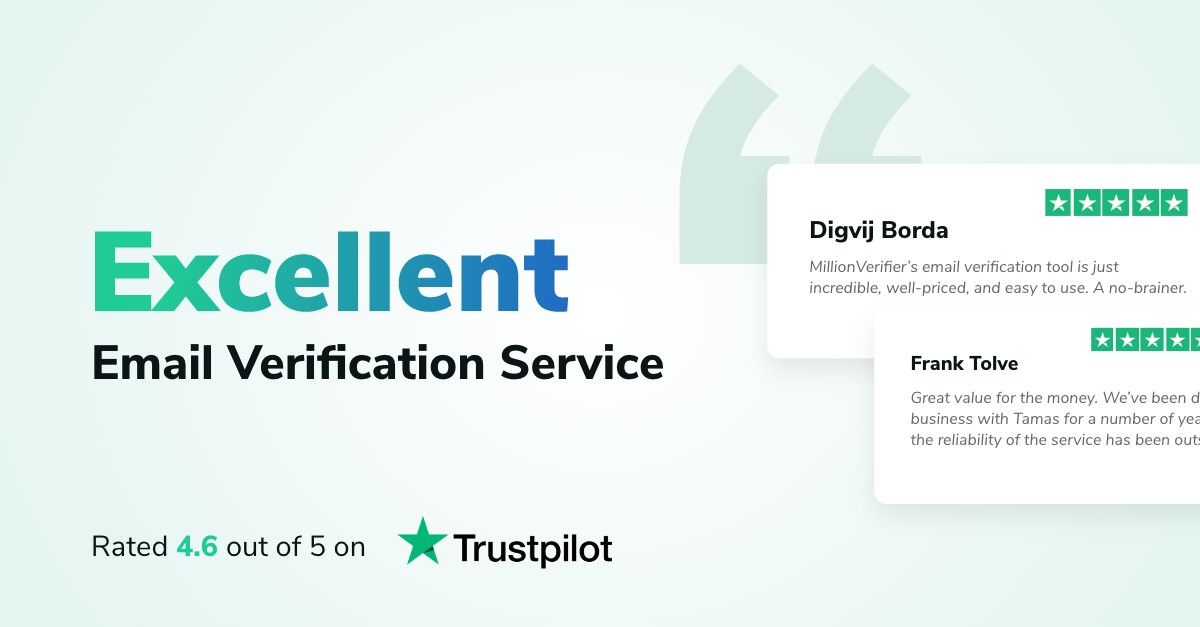 Our customers love what we do. We work hard to deliver the best results and user experience for our customers. MillionVerifier is rated excellent on Trustpilot.
Rated

4.6

out of 5 on
We have started using this tool for email validation from mid of Jan 2020 and the end result is excellent so far. Report generating time is quite fast. Good service....Keep it up
I dont ever leave reviews but I stumbled across MillionVerifier and I have to say, I have been extremely impressed. The fact they have auto-renewing credits makes this setup set and forget, which is w...
We have tried out a number of verification services over the past year. It's been amazing how much faster and more accurate this is so far. I've compared some of our results with several of our own em...
Great app. Love the accuracy in the reporting and the customer service is top of the line. So far it's been a five star experience. Hopefully they can speed up the email verification process in the...
I've been using millionverifier for couple of months now and all the list I verify on it is 100% valid
Good API, have detail breakdown of different result. Accurate.
I love this service, accurate, fast, affordable.
It works. it is simple and it keeps you and your email reputation out of trouble. tremendous value
Never send email to a list without checking the emails here first -- it is easy, fast and it works. the price value ratio is outstanding. why risk your reputation?
Excellent company! Simple and straightforward interface. The email validation is pretty fast and accurate with raisonable prices! Overall we are extremely satisfied with the sales transaction and the...
Its been a good verifier
Easy and fast.
I just used MillionVerifier's service to verify over 300K email addresses and it worked like a charm. Very easy and the best value out there in this space.
Interface is simple (as is the API we use), results easy to interpret and support is excellent. We love it!
Great value for the money. We've been doing business with Tamas for a number of years and the reliability of the service has been outstanding.
Amazing accuracy! It helped me tremendously to clean my list
I migrated from Hubucco to Millionverifier recently as I was impressed by the accuracy & speed of it. I have not been disappointed! Speed improved manifolds and accuracy was maintained with 99+%. This...
Value for money. Accurate results
I like your services
Excellent work! Easy to use