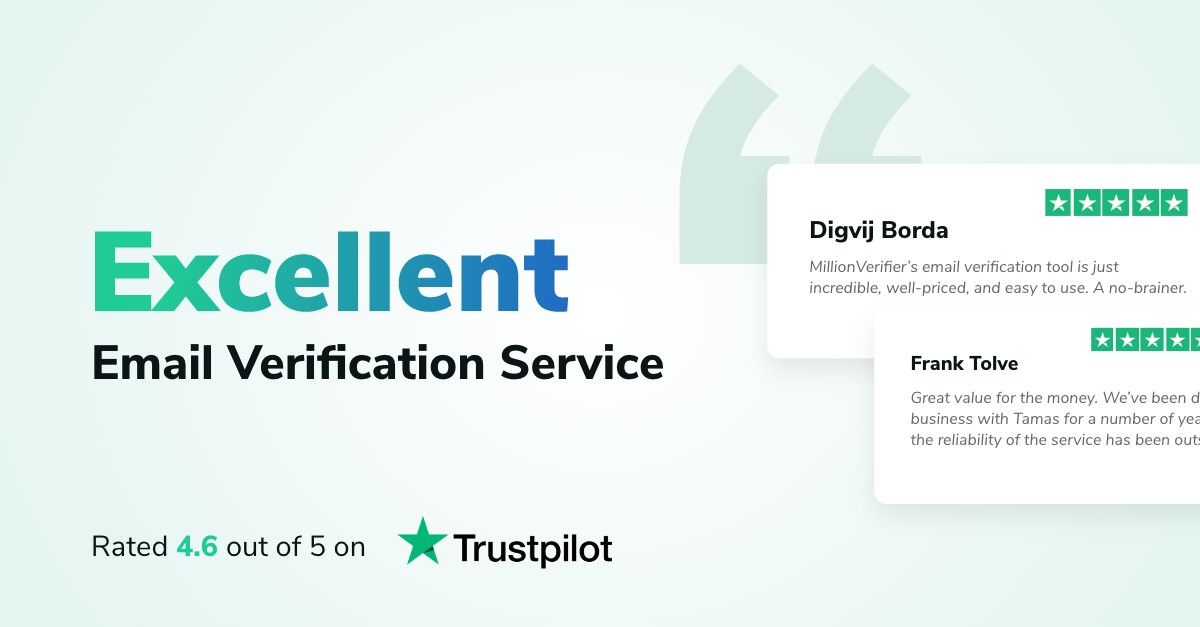 Our customers love what we do. We work hard to deliver the best results and user experience for our customers. MillionVerifier is rated excellent on Trustpilot.
Rated

4.6

out of 5 on
Coming in to my new position, I had a feeling their 55k emails weren't all active. Sure enough… ??? thanks for for saving us from getting blacklisted and saving us money on dead leads.
It works. it is simple and it keeps you and your email reputation out of trouble. tremendous value
Do not run an email campaign without Millionverifier! Accurate and fast as promised. The price was so good, I just purchased a large package and run any list through for verification prior to a campai...
I really love million verifiers. It really awesome tools for email verification
most affordable service. like it.
I've been using MV since it debuted. It does exactly what it says it does - verifies millions of emails. Price-wise, it's the best-priced on the market, and can handle very large bulk requests in a re...
Hey! The interface is friendly, it works fast, the price is the best on the market (I did a research before buying their services) I recommend MillionVerifier.
Great customer service! Tamas was very helpful in a small issue that we were having with our account and worked quickly to fix it. Service works great too!
I like your services
Value for money and simple to use.
Test period worked excellently for me. I recently subscribed to 500K. I am convinced I am going to have a excellent service.
I have only just started to use Millionverifier recently, hence the 4 star rating, but so far so good!
Great value for the money. We've been doing business with Tamas for a number of years and the reliability of the service has been outstanding.
Good API, have detail breakdown of different result. Accurate.
Very happy with the service. Would use again
Never send email to a list without checking the emails here first -- it is easy, fast and it works. the price value ratio is outstanding. why risk your reputation?
I dont ever leave reviews but I stumbled across MillionVerifier and I have to say, I have been extremely impressed. The fact they have auto-renewing credits makes this setup set and forget, which is w...
We compared other verification companies and Millionverifier had the best pricing. Once we signed up we were delighted with the accuracy and speed of the verification and have recommended them to seve...
Very easy to use! Highly recommended!
I migrated from Hubucco to Millionverifier recently as I was impressed by the accuracy & speed of it. I have not been disappointed! Speed improved manifolds and accuracy was maintained with 99+%. This...