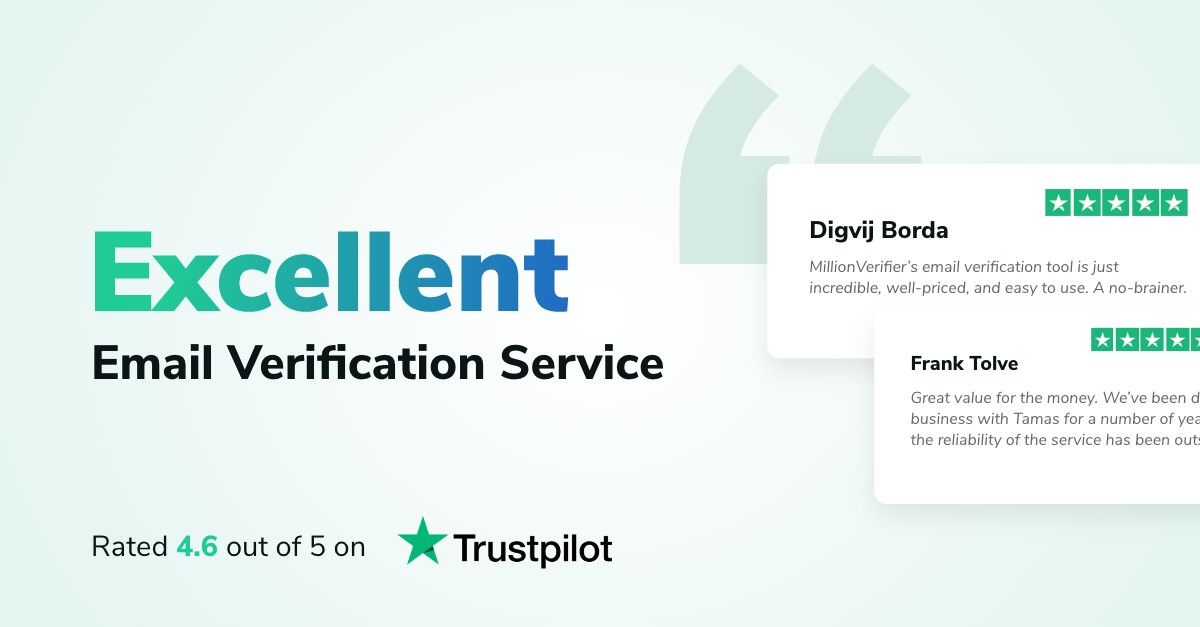 Our customers love what we do. We work hard to deliver the best results and user experience for our customers. MillionVerifier is rated excellent on Trustpilot.
Rated

4.6

out of 5 on
Excellent work! Easy to use
Test period worked excellently for me. I recently subscribed to 500K. I am convinced I am going to have a excellent service.
I've been using MV since it debuted. It does exactly what it says it does - verifies millions of emails. Price-wise, it's the best-priced on the market, and can handle very large bulk requests in a re...
MillionVerifier's email verification tool is just incredible, well-priced, and easy to use. A no-brainer.
In my experience, this is the most accurate email database verification service. Checks files quickly. Prices are really cheap. and despite this, there are often additional promotions. We had experien...
Very happy with the service. Would use again
It's the best verifier I've ever seen I suggest everyone use this verifier at an affordable price with a 99% deliverability guarantee.
I've been using millionverifier for couple of months now and all the list I verify on it is 100% valid
I dont ever leave reviews but I stumbled across MillionVerifier and I have to say, I have been extremely impressed. The fact they have auto-renewing credits makes this setup set and forget, which is w...
Best verifier in term of price and quality
Interface is simple (as is the API we use), results easy to interpret and support is excellent. We love it!
I hadn't emailed my list in a while. I attempted at one point but I was receiving too many bounces so I decided to stop the mailing. I found MillionVerifier and, after cleaning my list, I was able to ...
Value for money. Accurate results
Great customer service! Tamas was very helpful in a small issue that we were having with our account and worked quickly to fix it. Service works great too!
I like your services
I use millionverifier API and it works very well
Great app. Love the accuracy in the reporting and the customer service is top of the line. So far it's been a five star experience. Hopefully they can speed up the email verification process in the...
Amazing accuracy! It helped me tremendously to clean my list
We compared other verification companies and Millionverifier had the best pricing. Once we signed up we were delighted with the accuracy and speed of the verification and have recommended them to seve...
Awesome email validator with simpel API instructions you can make sure the the address given is indeed a valid mailaddress and that makes life a lot easier in many cases.