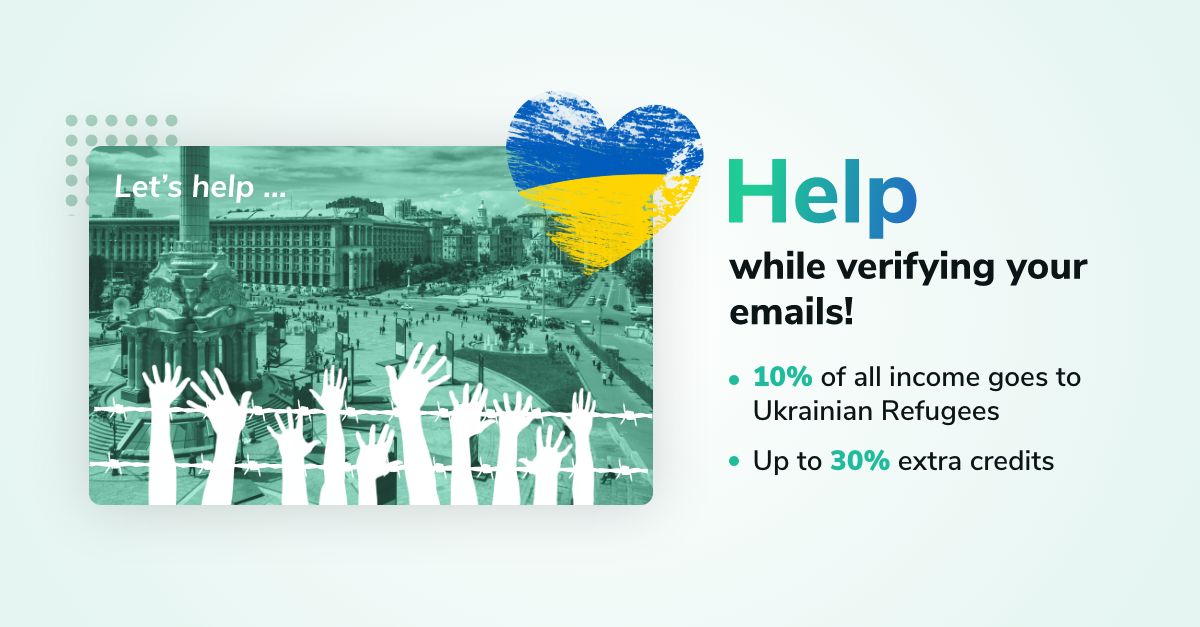 Russia has attacked Ukraine on 21 February 2022, causing a humanitarian disaster in Europe. In a couple of days, almost 400,000 Ukrainian was forced to leave their country, and 44 million people were still in fear as Russian forces continued invasion of their country, including their capital, Kyiv.
Help our Neighbours
MillionVerifier is operated from Hungary, a neighboring country of Ukraine. Refugees are fleeing to Europe to find shelter until the aggressive invasion ends in their homes.
10% of All Income Goes to Ukrainian Refugees
Without taking sides, we thrive on helping people in need. We have already shipped blankets and food into Eastern Ukraine. Now, we offer 10% of all income we receive this week to help Ukrainian refugees.

10% of all income between: 28 February 2022 12pm and 7 March 2022 12pm GMT
Up to 30% Extra Credits
Buy email verification credits and get up to 30% extra credits for free. Take this opportunity to help people in need while getting free credits.

10% extra credits when buying at least 50k credits
20% extra credits when buying at least 500k credits
30% extra credits when buying at least 2 million credits
MillionVerifier - Email Verification video
Buy credits today:
https://app.millionverifier.com/topup
Promotion dates:
Starts: 28 February 2022 12pm GMT
Ends: 7 March 2022 12pm GMT